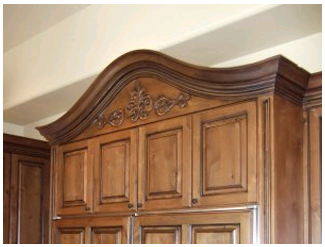 Photo courtesy of Chadwick Fine Furniture & Design
Even with our vast assortment of patterns, custom runs still make up a sizable portion of our production. Because of our highly experienced craftsmen, we are able to ship custom orders in 14 working days or less, from the time we receive your pattern.
Our tooling is made in ten and twelve foot lengths. From these tools, we can produce parts to the length required from a minimum of five feet to the full length of the tool.
For us to make a ten foot tool, you must supply us with eleven feet of the pattern to be reproduced. A twelve foot tool requires thirteen feet of pattern. Paint grade patterns may be shipped in two pieces which allows them to go UPS. Stain grade patterns such as oak must be shipped in one piece.
There is a one-time charge for custom runs.