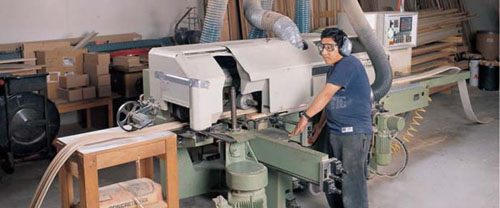 Photo courtesy of Timberline Moulding, San Marcos, Ca
MACHINABLE S4S MATERIAL

ULTRA-FLEX MOULDING'S machinable formula can be machined with conventional woodworking equipment and will not dull knives like other flexible products.
Use it with shapers, routers and moulders to avoid the expense of custom tooling. We have many customers that order machinable S4S blanks and run them through their moulder when they need a few feet of straight flex. Keep in mind that machinable S4S is intended for paint grade applications.
Machinable Blanks Are Available In 1/4" Increments As Follows:
Minimum of 1/2" thick up to 2" thick and a Maximum of 2" wide up to 12" wide
All our available from 5' up to 12' long in one foot increments.
NOTE: When ordering for machining, be sure to specify Machinable S4S.